Major American company will test new technology for carbon capture at Mongstad
The engineering- and construction company Fluor has signed an agreement for use of the test facility Technology Center Mongstad (TCM) in Nordhordland.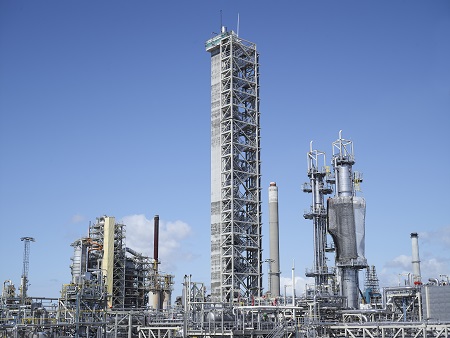 – This project will contribute to strengthen the energy technology cooperation between Norway and USA, TCMs business development manager, Bjørn-Erik Haugan says.
Fluor has long history in developing solutions for capturing carbon dioxide (CO2). The company now wants to test a new technology at TCM.

– It is raising global interest that such a world-renowned company as Fluor will cooperate with TCM, which is the world´s largest test facility for carbon capture, Haugan says.

Satish Reddy, Vice President of Process Technology in Fluor, stated that the company wants to test a newly developed chemical (solvent) to separate carbon dioxide from industrial flue gases.

– We believe that the new technology has an exciting potential to advance carbon capture. TCM is an appropriate place for us to conduct the test, Reddy says.

Fluor will use the Amine test plant at TCM during the period December 2018 – May 2019.
Strengthens relations to the United States
Norway and the United States have a bilateral cooperation in the energy sector, including carbon capture. TCM is an important part of the venture. Relations between the countries were further strengthened in February when the US Department of Energy (US DoE) awarded USD 33.7 million to four US companies who aim to test their carbon capture technology projects at TCM.

– Carbon capture has become the most important part of the energy collaboration between Norway and the United States. Fluor follows ION Engineering as the second US DoE funded company using TCM in a test campaign. It is positive for us that US authorities support major companies in their desire to test technologies at our facilities, says Haugan.
About carbon capture and storage
Carbon capture and storage is expected to play a key role in the reduction of greenhouse gases globally. The International Energy Agency (IEA) has estimated that one fifth of total cuts will come from carbon capture by 2050. Carbon capture and storage (CCS) involves three phases. First, the CO2 is separated from the other emission gases and then compressed into a liquid state. This phase is the main focus for TCM. Then, CO 2 is transported to the storage location. Finally, it is pumped into an underground or sub-seabed formation located thousands of meters below surface level.
For further information, please contact:

Bjørn-Erik Haugan, TCM Business Development Manager
mobile 90553394,
e-mail: beh@gassnova.no

Satish Reddy, Vice President, Process Technology at Fluor Corporation
mobile +1 (949) 637 1255,
e-mail: Satish.Reddy@Fluor.com