Norwegian media: New test-site at TCM will enhance the development of carbon capture technology
In connection with the establishment of a new test site at Technology Center Mongstad (TCM), the newspaper "Teknisk Ukeblad" (TU) has published an article about on the technology centre and the new test facility which is due for completion in 2020.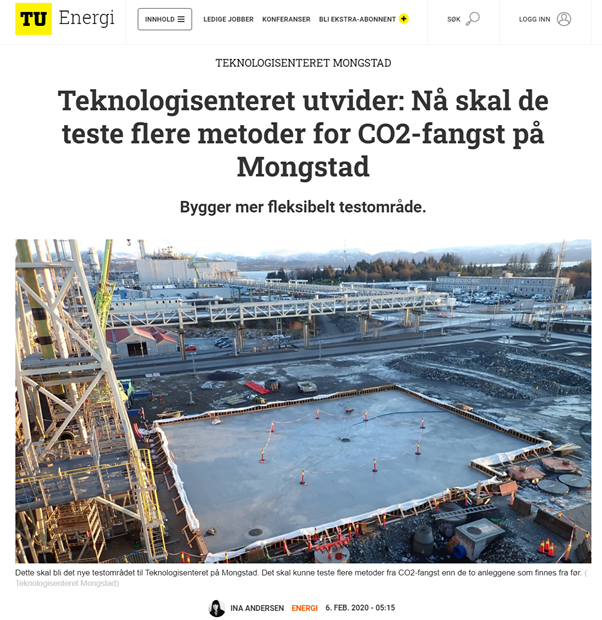 The article gives insight into what the new test site will offer and the opportunities it will provide in the future. According to TU; the outcome will hopefully demonstrate more cost-efficient technologies that requires less space and use less energy and thereby be better adapted to the needs of the industry."
TCM is currently the world's largest and most advanced plant for verification of the carbon capture technology. In order to maintain plant's leading position within the CCS-technology, TCM has invested over USD 3 million in a new test site that will be completed in 2020.
The article in TU describes how and why the new test facility is important for further technology development:
"TCM recognise that other technologies for carbon capture is starting to mature. Technologies that potentially are cheaper and more efficient on certain types of flue gases."
TCM has currently two units that utilize liquid-based technologies (solvents). The new facility will use so-called modular capture technologies such as membranes or absorbents. These new technologies have a lower maturity level and creates further opportunities for technology development.
TU further describes why the new technology testing is important, and quotes Bjørn-Erik Haugan, head of business development at TCM:
"Although the main concern in Norway has been storage of the captured CO2, there is great interest elsewhere to utilize it. If they can find industrial purposes, this can create a cash flow that can cover some of the capture costs. This will arise issues on what kind of characteristics the CO2 should have, depending on the final use. A different technology may give us different results."
As TU describes, this is one of the reasons why TCM is now investing in a third area for testing of CO2 capture technology. It should be able to receive smaller, modular technology research and thus become a far more flexible solution.
Finally, TU addresses the suppliers of the technology centre, and how the US Department of Energy is heavily involved in the new technology development. There are test centres in the US, but not like the one at Mongstad, and therefore they want to come to Norway to test their technology:
"TCM has several vendors waiting to test their non amine-based CO2 capture technologies. Most are from the US and is financed by the US Department of Energy."